Once upon a time, I eloped to Cincinnati with a charming man.
Since then, Cincinnati has held special meaning for us, and every now and then we return to celebrate our good sense in getting married.
This year, because of schedules and work, we returned during the week, and we were surprised and delighted to be there while the city was at peak bustle. There were young families with strollers out shopping; there were too many people navigating the downtown on bicycles to count; and old buildings were receiving facelifts and second lives as modern businesses and housing.
The energy in downtown Cincinnati was palpable.
And as we drove around, marveling at all of this, we came upon this gentleman, welcoming us to the city.
Then, we stumbled upon another amazing piece of outdoor art. And another and another and another, so many beautifully executed murals on buildings that I was amazed, entertained, and mesmerized. The art — mostly paying homage to the city's history and heroes — transformed this place that I remember from my wedding day as tired and worn to this hip hub.
The next day, my husband and I drove around, taking photos of the murals as we passed, showing how they fit into the landscape of the city about them.
This slideshow requires JavaScript.
The murals — 144 of them — are part of ArtWorks Cincinnati, a nonprofit mural program that began in 2007, when the city's mayor participated in an exchange with the city of Philadelphia. Mural Arts Philadelphia, a program over three decades old, has produced more than 3,000 murals. Cinci's mayor returned to his city and challenged ArtWorks to create a mural in each of Cincinnati's 52 neighborhoods.
And that's how it started in Cincinnati.
I write about Cincinnati's mural program not to toot that city's horn, though it deserves a toot or two for all that glorious, amazing outdoor art. Instead, I want to pitch this idea to the powers-that-be, and the dreamers and doers in my own city of Howell.
It's not like it's some pie-in-the-sky, way-out idea; the seeds for a mural program have been planted in Howell, first by the big steak that used to sizzle for many years looking east on Grand River Avenue on the side of what is now the Thai Cafe, facing the parking lot for Marco's Pizza.
We are blessed with the charming, 150-foot-long mural in the West Clinton Street parking lot that pays homage to Howell's history; and, now, a mural on the entrance side of 2FOGs Pub is just about done.
These two murals mesh perfectly with the artsy, funky, eclectic vibe that now define's Howell's amazing downtown. It's that kind of energy that helped garner my city its well-deserved National Main Street Award this year, I am sure.
Think about it: More murals — big, bold, drive-by art that celebrates the city's past, present and future — will help fuel Howell's continued growth and health. How cool would it be to figure out how to put a program similar to Cincinnati's into motion. And there are plenty of spaces in downtown Howell that would be ideal for murals.
This is from the ArtWorks Cincinnati website:
Founded in 1996, ArtWorks is an award-winning non-profit organization that employs and trains local youth and talent to create art and community impact through three strategic programming areas: Public Art, including an extensive mural program; an art therapy division, ArtRx; and an entrepreneurial arm, Creative Enterprise. ArtWorks is the largest visual arts employer in the region. To date, ArtWorks has hired over 3,300 area youth, 2,700 professional local artists, and trained nearly 600 creative entrepreneurs.
I don't think Howell will ever have a program that big, or that involved, but it can create one that fits its own quirky needs and resources. We have so many creative people in the community, and so many creative students in our schools. Surely the two can come together for our own HowellArts program.
Even a word-person like me can come up with some images to illustrate cool ideas for the town. I've created a couple possible murals for some pretty prominent blank spots in Howell's downtown.
Imagine the viaduct on Grand River Avenue with a mural on its sides, crowing about the city's new status as a winner of the Great American Main Street Award. Or welcoming people.
Think about the First National Bank building sporting a mural that pays tribute to its core business AND the annual balloonfest.
Or just the balloonfest!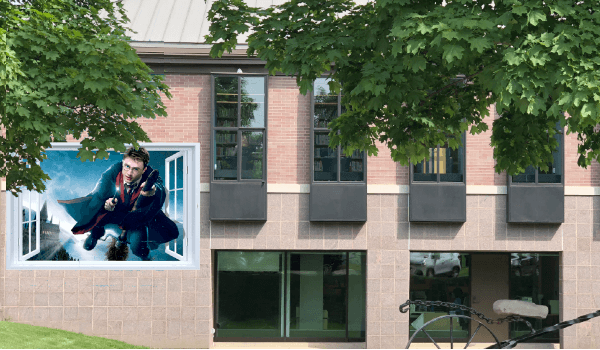 We can celebrate Harry Potter and Hogwarts on the walls of the Howell Carnegie District Library.
Imagine how gorgeous Howell's historic downtown could be as an outdoor mural gallery. Think about some of the blank walls of downtown buildings and imagine that they are instead graced with some big, bold, brash, beautiful art.
It can happen. Imagination, talent and organization are what it would take to pull it off, and Howell has a whole lot of that.
---
Editor's note: The following example, featuring the late Duane Zemper, one of Howell's most distinguished and interesting residents, was added to this post on June 1, 2018.