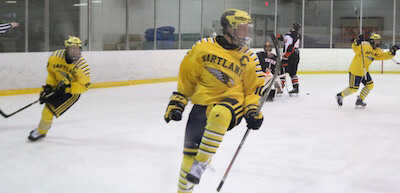 LIVONIA — The results might not have been what they hoped for, but two Livingston County hockey coaches were thrilled with Saturday's KLAA-MIHL Showcase at Eddie Edgar Arena.
"I think it's a great idea," Brighton coach Paul Moggach said. "I think it's good to get our two leagues together. Obviously, by eliminating some of the teams in our league, the numbers are right, so it just makes sense."
There were 10 games involving the two leagues, with matchups based on each school's USHSCHO ranking from the previous school year. An 11th game pitted the two teams with the lowest USHSCHO ranking in the KLAA, Livonia Franklin and Grand Blanc, against each other.
"The idea is unbelievable," Hartland coach Rick Gadwa said. "Even in the morning, the games were awesome. There were some shootout games and a good compete level, and that's what this is all about/
"We should do it every year. Every one was raving about it. There were scouts here, and a couple said we should have done this years ago. I know we'll continue this with our leagues and hopefully it grows into something special."
Games started at 9 a.m. and went until 9:30 p.m., ideal for hockey connoisseurs of all stripes.
"I was here all day," Brighton's Adam Conquest said, "and it's fun to watch from a different point of view instead of being on the ice. … I was watching Stevenson and St. Mary (play), and I watched a little of the Hartland game before ours. I got a good look at those teams and I enjoyed myself watching hockey all day. It's what I love."
All three Livingston County teams fell in their respective games. Earlier in the day, Howell couldn't hold on to a 4-1 lead and lost to Port Huron Northern, 5-4, in a shootout.
Hartland and Brighton took on Birmingham Brother Rice and Detroit Catholic Central, respectively, in the final games of the day.
Both lost, Hartland by a 4-1 count and Brighton 3-0, its first loss of the season.
Hartland, in its game, controlled play for long stretches, but Gadwa wasn't hearing any of it.
"'Out-play,' don't get me wrong, but it's such a cliche word," he said. "They did what they had to do to win. On paper, maybe, you could say we outplayed them, but they outplayed us in the categories that count: The battles along the boards. When they chipped to an area, they got to the puck and they put it in the net. Their third goal, they outbattled us in front of the net. Those are the important ones. We weren't good enough tonight."
As for Brighton, the Bulldogs allowed a goal with one second left in the second period to give Catholic Central a 2-0 lead. The Shamrock scored on an empty-net goal late in the third period.
"They scored two goals on the rush, plays our defensemen should have made, and we didn't," Moggach said. "It should have been an 0-0 game going into a shootout. We missed opportunities and we made two bad defensive plays at the wrong time."
Brighton and CC were ranked 1-2 in the coaches association poll going into the game, and Moggach expects that to eat least reverse in the next poll.
"They're a very good team, probably the best in the state," he said. "I don't think there's any denying that. … Next time, we have to be better, obviously. We need to grow from this, and I think we will."