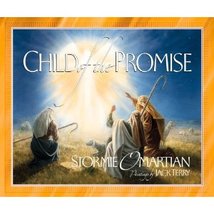 Child of the Promise is a Christmas musical sponsored by Brighton Area Chamber of Commerce at the Brighton Center for the Performing Arts on November 24 & 25. Dozens of local singers and musicians will be presenting this musical drama celebrating the birth of Christ and the hope that lives in us today.
The musical was written by Michael and Stormie Omartian, and features 18 outstanding soloists and 60 talented chorus members, accompanied by an accomplished orchestra as they explain in song God's promise of hope to the hopeless people of occupied Israel 2000 years ago. They will show how the birth of Christ was foretold numerous times and centuries before the actual event, and why many people believe Jesus was a Child of promise.
"We envisioned this as a large historical body of work that could hopefully be performed anywhere from the smallest churches to the largest arenas," says Michael.
"I took the liberty of exploring the possible reactions, perceptions and feelings of each of the characters involved and related them to each our lives today. In doing that, I hoped to bring this story alive to people," adds Stormie.
Last year's debut performances sold out, raising over $7,400 for the local chapter of LOVE in the Name of Christ
Performances are Saturday November 24th at 7:00pm and Sunday November 25th at 4:00pm. The Brighton Center for the Performing Arts is located in the Brighton High School at 7878 Brighton Road.
Tickets can be purchased for $10 at the Love INC offices in Howell, at the Greater Brighton Area Chamber of Commerce, or at http://www.childofthepromiseliv.org